Good Evening to All!
I had been listening to my Bible CDs and kind looking through Facebook, when I came across

a

video of a newscast about guardian

angels.
I was able to put it on my Blog Page on Facebook, but for some reason, I could not figure out how to get it on here.
I plan on making the next few posts about angels, so hopefully I will figure out how to upload it to my blog. Just in case, as I said it is also on my Blog Page on Facebook as well. It is so neat. I recommend it to everyone. I hope you will watch it and find it as awestrucking as I did.
I know there are many of you out there who may be skeptical of angels, so I thought I would give you a bit of Biblical background to go with this story. for those of you who have studied about angels and know this, please go on down to the video. It is so

neat!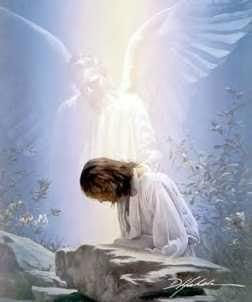 The word angel or Malak in Hebrew means messenger. This term which is used throughout the Old Testament could include prophets (Isaiah 42:19)Who is blind but my servant? or deaf, as my messenger t

ha

t I sent? who is blind as he that is perfect, and blind as the LORD's

servant? Also He sends priests

)
(Mal
2:7)
For the priest's lips should keep knowledge, and they should seek the law at his mouth: for he is the messenger of the LORD of hosts. Generally though they were heavenly beings. Angels performed various duties including caring fo

r

the faithful (

P

s. 91:11) For He shall give His angels charge over thee, to keep thee in all thy ways. He also

uses

them to destroy enemies, (Ps. 35:5) and

to praise Him.
Theophanic angels, representing God, brought messages and acted as guides (Exodus 14:19 NIV)
Then the angel of God, who had been traveling in front of Israel's army, withdrew and went behind them. The pillar of cloud also moved from in front and stood behind them,

This verse speaking about the and
20

The angel of God said to him, "Take the meat and the unleavened bread, place them on this rock, and pour out the broth." And Gideon did so.
21 Then the angel of the

Lord

touched the meat )the unleavened bread with the tip of the staff that was in his hand. Fire flared from the rock, consuming the meat and the bread. And the angel of the

Lord

disappeared.
(Judges 6:20-21 NIV). They frequently appeared in human form, and were only recognized as angels after the event in which they were in

v

olved. For example the time Abraham entertained the three strangers. (Gen. 18:2-22

; 19:1)
This is becoming a somewhat indepth study of angels which I was not expecting, so I think I will make this a "series of posts. Tune in for more enjoyable studies about our heavenly helpers. So I think I will turn this into a "series" of Posts about

angels.
The

answers to the Bible Quiz of the 25th, are as follows:
1. C--God

with us
.
(Matt. 1:23)
2.
B--King Herod was searching for

the child to kill him.
(Matt. 2:13)
3. C--He gave orders to kill all the boys in Bethlehem 2 years old and under

.
(Matt. 1:16)
4. C--He would h

ave a son who would become a great prophet.
(Luke 1:76)
5.
A--Zechar

iah
(Luke 1:59)
6. C--He wrote the name --John--on a tablet, and he could s

uddenly talk again.
(Luke 1:63)
7. C--H

e had been told he wouldn't die until he had seen the Messiah.
(Luke 2:26)
8

. B--
Share with one who has none.
(Luke 3:11)
9. B--Jesus
(Luke 4:14)
10. B

--The Judean wilderness
(Matt. 3:1)
I noticed that there were no comments on the Quiz post, so I hope that those of you who tried your ha

nd at it did well.
Y'all say a little prayer that I figure out how to transfer the video from my Facebook Page to my blog, as I will continue to work with i

t.
Good Night to All and May

God Bless!